Upcoming Shows and Appearances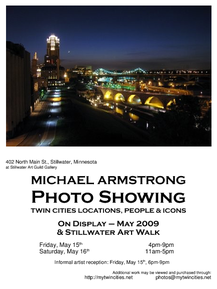 Stillwater Art Guild Gallery
I am showing my photography at Stillwater Art Guild Gallery through May 31st, 2009. I lucked into the opening after a good friend did some reconnaissance work on my behalf. It's doubly fortunate because Stillwater Art Walk is May 15th and 16th.
There will be a small, informal, artist reception (in conjunction with the Art Walk) on May 15th from 6pm – 9pm.
There are lots of great restaurants, shops, and galleries to see, so stop by and say hello while you're there.
Stillwater Art Walk
May 15th
4pm – 9pm
May 16th
11am – 5pm
402 North Main Street, Stillwater, Minnesota
(at the Stillwater Art Guild Gallery)